Please let us know if you have any large trees that are being cut down or disposed of
Numbers to call: Dave at 408 741-8365 or email him at David Vannier [dsvannier@yahoo.com], or Terry at 650 851-5528, or Tony in East Bay at 510 690-9906.
We love wood like walnut, sycamore, ash, carob, elm, red eucalyptus, cedar, acacia, birch, and almost any hardwood, as well as some fruitwoods. Diameter varies, but anything over 10 inches, some larger. See this page for more details.
Our primary interest is in trunk wood, as well as large crotches. Branch wood tends to move and crack leaving us with nothing.
A bowl is NOT produced as end grain, but along the face of the tree, so pieces should be left large. The general rule of thumb is to add 2 to 4" to the diameter of the piece to determine the length.
Help prevent land fill or smoke by letting us have some of the wood.
We would really appreciate it. Chances are we will make you a bowl as well.
See our Club in action below at a wood dump in the area.
All Working Hard to cut up a Walnut Tree (that would have been taken to the dump)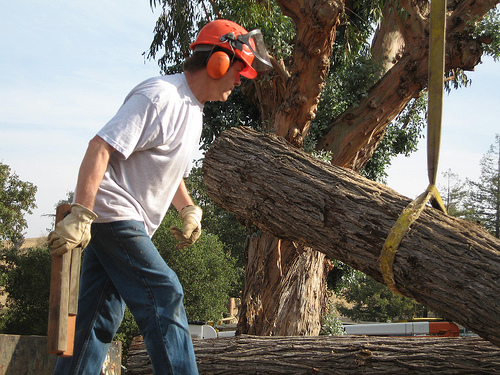 A Walnut gathering opportunity: If you are a member of the club you will occasionally get a yahoo group email about wood gathering opportunities. Recently we learned of a walnut tree being taken down. Thanks to some quick work b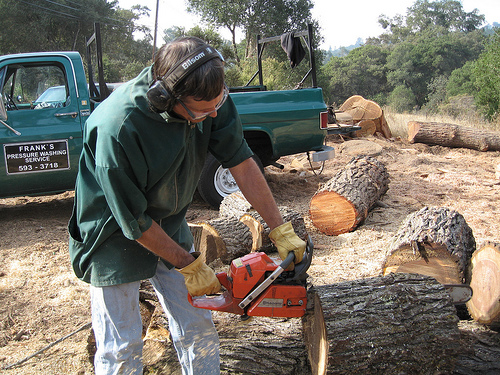 y Ken Clifford, he was able to identify who
was taking the tree down, and who we needed to work with to gather the wood. Unfortunately, the bad news is that we found out on Thursday night about the tree coming down Friday morning. In the end, the tree actually came down on Monday morning. The good news is that the people that took the tree down took it down in large, and I do mean LARGE, pieces.
Most tree services want to cut the tree up into slices that are far to small for the size of the tree. In this case, we also were able to use our chain saws. Many times, we are not allowed to use them due to liability concerns by either the property owner or the tree service. As you can see from the pictures, this was a rather large tree. Barry Uden loaded his truck up with a few large logs as well as one very large tree base.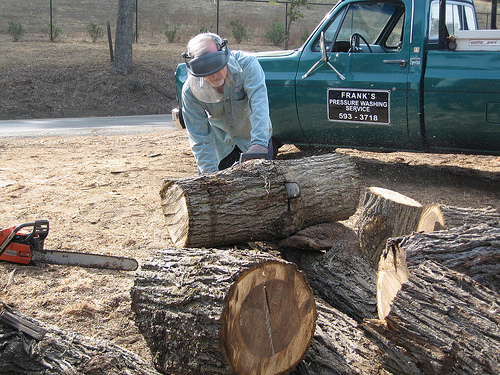 Several other members hauled off walnut that should turn into some very nice bowls.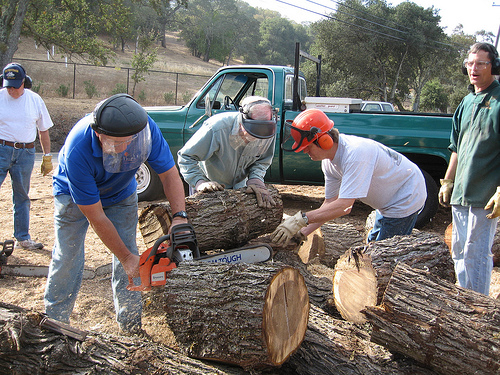 If you would like to participate in future opportunities, please make sure that you are a member of the Yahoo group, and check your email in particular before days that you might be able to help collect wood. Bring your safety equipment, chainsaw, and energy. It is a good way to collect some "free wood".
As we all know, there isn't anything that is free in life, there are times that we find outstanding pieces of wood, other times, just good practice wood. You never know what you will find till the tree is cut open.